As the year draws to a close, I'm adding my list of the best books I've read this year to the many others I've read (which I blame for my ever-growing to be read list). Some of these weren't released in 2018, but I read them this year, so I'm including them anyway. I'm a rebel like that. So, without further ado, my top five books of 2018:
5. The Disaster Artist by Greg Sestero and Tom Bissell: I actually saw the movie first, then read the book, which is something I rarely do. Both are well done, but the book is absolutely fascinating.
4. The Bear and the Nightingale by Katherine Arden: Inspired by Russian fairy tales, this book is both magical and one of a kind. There's a sequel, which I haven't read yet. I'm so nervous that it won't live up to the first, but the storytelling in The Bear and the Nightingale is so strong that I know I'm going to give it a go anyway. Here's hoping!
3. Jackaby by William Ritter: This rousing supernatural mystery/fantasy series is so much fun to read! Jackaby is a delightful mix of Sherlock Holmes and Doctor Who, while also being his own character. The female characters in this book are smart, capable, and multi-faceted–some of the best female characters I've read in a long time. This is a series I'll gladly read again soon.
2. A Darker Shade of Magic by V.E. Schwab: I absolutely loved this book and I'm so mad at myself for not having read it earlier! It's smart, original, and fast-paced. I absolutely loved the premise and I've found a new author to binge read in V.E. Schwab.
And… my absolute favorite book of 2018 is:
The 7 1/2 Deaths of Evelyn Hardcastle by Stuart Turton. This book is amazing! I devoured it and I'm eagerly waiting for Stuart Turton's next book. I love everything about his writing style, from his attention to detail, to the book's final twist. READ THIS BOOK!
*Honorable mention*
Two Dark Reigns by Kendare Blake: The only reason this isn't tied for first place is that this is the third book in the series, and I read the other two last year. This book is so good that, as soon as I finished it, I ran into the room my husband was in and just screamed. He's used to my weirdness, so instead of asking if I was mortally injured, he automatically assumed it was because the book was so good. This series is a lovely, dark fantasy and everyone and their brother needs to read it.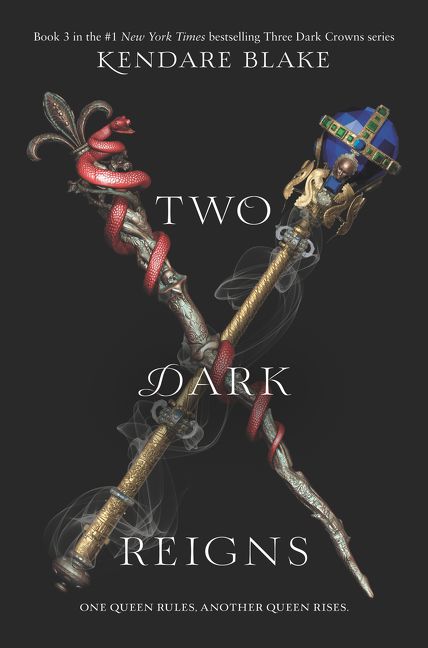 Did you read any of these books this year? What did you think? What's your favorite 2018 discovery?