For those of you who don't know me personally, let me say: I love dragons. As in, I have a collection of dragon-related paraphernalia that includes not only figurines and such whatnot, but a beautiful stained glass window dragon. So, when I saw this awesome post at https://iwontsayiminlovewithreading.wordpress.com/2019/02/05/if-you-like-books-with-dragons-than-you-will-love-these-books/ , I had to get in on the fun.
Here are some of my absolute go-to's when I'm needing a toothy fix:
The Dragonlance Chronicles by Margaret Weiss and Tracy Hickman: These are my favorite fantasy books ever. I've actually dog-eared my original copies so badly that I had to buy a second set and that's saying something because I'm very, very careful with my books. Full of adventure, amazing characters, and of course, dragons, these books are a must-read for any fantasy reader. Incidentally, this series contains my favorite dragon in literature.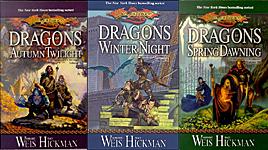 Lifelong friends, they went their separate ways. Now they are together again, though each holds secrets from the others in his heart. They speak of a world shadowed with rumors of war. They speak of tales of strange monsters, creatures of myth, creatures of legend. They do not speak of their secrets. Not then. Not until a chance encounter with a beautiful, sorrowful woman, who bears a magical crystal staff, draws the companions deeper into the shadows, forever changing their lives and shaping the fate of the world.
No one expected them to be heroes.
Least of all, them. (taken from Amazon)
Here, There Be Dragons by James A. Owen: This might be the most unique fantasy book I've read in recent memory. It's a fast read, and a ton of fun. I can't say much more without giving some interesting surprises away, but this one makes the list.
Set in 1917, an undergraduate is given a special book that he is told was the reason for his professor's murder and so must now protect it with his life as he goes on a journey like no other to places that are only supposed to exist in history and dreams. (taken from Amazon)
Dragonflight (The Dragonriders of Pern #1) by Anne McCaffrey: For anyone who's ever wanted to fly on the back of a dragon, this book is a must. A classic for many dragon-lovers, it has to be on the list.
On a beautiful world called Pern, an ancient way of life is about to come under attack from a myth that is all too real. Lessa is an outcast survivor—her parents murdered, her birthright stolen—a strong young woman who has never stopped dreaming of revenge. But when an ancient threat to Pern reemerges, Lessa will rise—upon the back of a great dragon with whom she shares a telepathic bond more intimate than any human connection. Together, dragon and rider will fly . . . and Pern will be changed forever. (taken from Amazon)
The Last Namsara by Kristen Ciccarelli: Finally, a YA with dragons in it! I haven't found too many of those recently (another reason I loved iwontsayiminlovewithreading's post. She had several suggestions). The dragons aren't as a big a part in this first book as I expected, but they are there and they move the plot along nicely.
In the beginning, there was the Namsara: the child of sky and spirit, who carried love and laughter wherever he went. But where there is light, there must be darkness—and so there was also the Iskari. The child of blood and moonlight. The destroyer. The death-bringer.
These are the legends that Asha, daughter of the king of Firgaard, has grown up learning in hushed whispers, drawn to the forbidden figures of the past. But it isn't until she becomes the fiercest, most feared dragon slayer in the land that she takes on the role of the next Iskari—a lonely destiny that leaves her feeling more like a weapon than a girl.
Asha conquers each dragon and brings its head to the king, but no kill can free her from the shackles that await at home: her betrothal to the cruel commandant, a man who holds the truth about her nature in his palm.
When she's offered the chance to gain her freedom in exchange for the life of the most powerful dragon in Firgaard, she finds that there may be more truth to the ancient stories than she ever could have expected. With the help of a secret friend—a slave boy from her betrothed's household—Asha must shed the layers of her Iskari bondage and open her heart to love, light, and a truth that has been kept from her. (taken from Amazon)
Dealing with Dragons by Patricia C. Wrede (The Enchanted Forest Chronicles #1): I love this series! Oh, wow, the dragons in this book are so much fun! Kazul, the main dragon, likes cherries jubilee; another dragon has allergies. It's a blast to read, and perfect for older elementary school readers.
Princess Cimorene, the daughter of a very proper king, runs away to live with a very powerful dragon, Kazul. (taken from Amazon)
Okay, that's a terrible description, but don't let it discourage you: this is so much fun to read!
Dragon Champion (One of the Age of Fire #1) by E.E. Knight: I loved this one! It felt a little bit like a dragon's version of Watership Down. I'm totally simplifying it; suffice it to say, it's worth checking out.
High in the mountains, deep in the safety of a cave, a brood of dragons is born. The four young ones are among the last of a dying breed—the last hope for dragons' survival. But hope shatters when a murderous group of slave-trader dwarves breaks into the cave, leaving a wake of death and destruction…

Only young Auron, a rare, defenseless gray dragon, manages to escape. Armed with nothing but his claws and a boundless determination to survive, he sets off in search of his kind. But to find other dragons—or, at least, find out who's killing them off—Auron will have to search a world of mercenary elves, vicious humans, and dangers of all kinds. Finding allies in the strangest places—and finding himself along the way—Auron is about to make the trek of a lifetime. (taken from Amazon)
A Diversity of Dragons by Anne McCaffrey and Richard Woods, illustrated by John Howe: I love, love, love this one! Full of gorgeous art, this book talks about the role of dragons throughout mythology, in different cultures, and in modern literature. It's a fantastic book.
Finally… She's written The Book on Dragons.
Anne McCaffrey is as renowned for her knowledge of dragons as she is for her New York Times bestselling novels. In this beautifully designed hardcover, McCaffrey focuses her attention on the fantastical creature's existence throughout history. Her words are complemented by the stunning color portraits by John Howe, noted for his success with several J.R.R. Tolkien calendars and maps. (via Google Books)
The Hobbit by J.R.R Tolkien: My list wouldn't be complete without the quintessential dragon, Smaug. This book is an amazing example of a sweeping fantasy, and Smaug flat-out rocks.
Bilbo Baggins is a hobbit who enjoys a comfortable, unambitious life, rarely traveling any farther than his pantry or cellar. But his contentment is disturbed when the wizard Gandalf and a company of dwarves arrive on his doorstep one day to whisk him away on an adventure. They have launched a plot to raid the treasure hoard guarded by Smaug the Magnificent, a large and very dangerous dragon. Bilbo reluctantly joins their quest, unaware that on his journey to the Lonely Mountain he will encounter both a magic ring and a frightening creature known as Gollum. (taken from Amazon)
So, there's my current list. What would you add? Do you have a favorite dragon?