Witty and Sarcastic Bookclub
For those of you who don't know me personally, let me say: I love dragons. As in, I have a collection of dragon-related paraphernalia that includes not only figurines and such whatnot, but a beautiful stained glass window dragon. So, when I saw this awesome post at https://iwontsayiminlovewithreading.wordpress.com/2019/02/05/if-you-like-books-with-dragons-than-you-will-love-these-books/ , I had to get in on the fun.
Here are some of my absolute go-to's when I'm needing a toothy fix:
The Dragonlance Chronicles by Margaret Weiss and Tracy Hickman: These are my favorite fantasy books ever. I've actually dog-eared my original copies so badly that I had to buy a second set and that's saying something because I'm very, very careful with my books. Full of adventure, amazing characters, and of course, dragons, these books are a must-read for any fantasy reader. Incidentally, this series contains my favorite dragon in literature.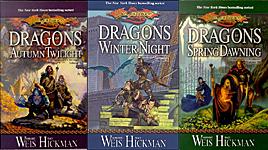 Lifelong friends, they went their separate ways. Now they…
View original post 1,144 more words