Admission: whenever possible, I read a book before I watch the show or movie it's based on. It doesn't always happen nowadays, what with homeschooling, toddler chasing, and taking college classes, but I do my level best.
In order to join the Book Hipster Collective, read the book first (unless you're capable of growing a man bun. Then…go for it, I guess). Here are some book suggestions for a jumping off point.
Good Omens by Neil Gaiman and Terry Pratchett: If you haven't seen the wonderfully done show, you need to get on that. If you haven't read the book: what on earth, in heaven, or in hell, are you waiting for?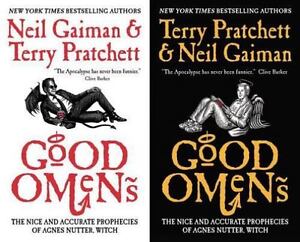 According to The Nice and Accurate Prophecies of Agnes Nutter, Witch (the world's only completely accurate book of prophecies, written in 1655, before she exploded), the world will end on a Saturday. Next Saturday, in fact. Just before dinner.
So the armies of Good and Evil are amassing, Atlantis is rising, frogs are falling, tempers are flaring. Everything appears to be going according to Divine Plan. Except a somewhat fussy angel and a fast-living demon—both of whom have lived amongst Earth's mortals since The Beginning and have grown rather fond of the lifestyle—are not actually looking forward to the coming Rapture.
And someone seems to have misplaced the Antichrist . . .(taken from Amazon)
The Vampire Lestat by Anne Rice: According to imdb, a Vampire Chronicles series is in the works. If or when this will actually come to fruition, I really can't say. However, it's absolutely worth reading the first few books in the Vampire Chronicles anyway, since they're bloody (pun intended) brilliant.

Follows the three-century life of Lestat, from his boyhood in eighteenth-century France to 1992 Miami where the immortal vampire finds himself alone, yearning to regain his soul and to once again experience the joys and anguish of being human. (taken from Amazon)
Wheel of Time series by Robert Jordan (the last few were continued by Brandon Sanderson) : You've got some time before the series releases (sometime in 2021), which is great because this is quite the undertaking. However, if you're a fantasy fan at all, these books need to be on your "to read asap" pile.

The Wheel of Time turns and Ages come and go, leaving memories that become legend. Legend fades to myth, and even myth is long forgotten when the Age that gave it birth returns again. In the Third Age, an Age of Prophecy, the World and Time themselves hang in the balance. What was, what will be, and what is, may yet fall under the Shadow.
When The Two Rivers is attacked by Trollocs—a savage tribe of half-men, half-beasts— five villagers flee that night into a world they barely imagined, with new dangers waiting in the shadows and in the light. (taken from Amazon)
The Stand by Stephen King: With a new star studded mini-series in the works, make sure to read the book before watching. I think I've read this book before but, since I'm not entirely positive, I think I need to read it again before watching the show.
A patient escapes from a biological testing facility, unknowingly carrying a deadly weapon: a mutated strain of super-flu that will wipe out 99 percent of the world's population within a few weeks. Those who remain are scared, bewildered, and in need of a leader. Two emerge—Mother Abagail, the benevolent 108-year-old woman who urges them to build a peaceful community in Boulder, Colorado; and Randall Flagg, the nefarious "Dark Man," who delights in chaos and violence. As the dark man and the peaceful woman gather power, the survivors will have to choose between them—and ultimately decide the fate of all humanity. (taken from Amazon)
The Name of the Wind by Patrick Rothfuss: The first book in an epic fantasy series (only the first two books in the chronicles are out right now), the show actually doesn't follow the novel, instead focusing on the world. I'm hesitant to watch the show because of that, but The Name of the Wind is excellent. The first paragraph of the book alone is incredible.
My name is Kvothe.
 
I have stolen princesses back from sleeping barrow kings. I burned down the town of Trebon. I have spent the night with Felurian and left with both my sanity and my life. I was expelled from the University at a younger age than most people are allowed in. I tread paths by moonlight that others fear to speak of during day. I have talked to Gods, loved women, and written songs that make the minstrels weep.
 
You may have heard of me.
 
So begins a tale unequaled in fantasy literature—the story of a hero told in his own voice. It is a tale of sorrow, a tale of survival, a tale of one man's search for meaning in his universe, and how that search, and the indomitable will that drove it, gave birth to a legend.  (taken from Amazon)
Death on the Nile by Agatha Christie: Agatha Christie is the preeminent voice in mystery literature. If you haven't read this book, you definitely need to. The fact that a movie adaptation will be released next year, well…it gives you a bit of a deadline.
Beloved detective Hercule Poirot embarks on a journey to Egypt in one of Agatha Christie's most famous mysteries, Death on the Nile.
The tranquility of a cruise along the Nile was shattered by the discovery that Linnet Ridgeway had been shot through the head. She was young, stylish, and beautiful. A girl who had everything . . . until she lost her life.
Hercule Poirot recalled an earlier outburst by a fellow passenger: "I'd like to put my dear little pistol against her head and just press the trigger." Yet in this exotic setting nothing is ever quite what it seems. (taken from Amazon)
Are you excited for any of these adaptations? What am I missing? Are you a book hipster like me, or does it depend on the book?