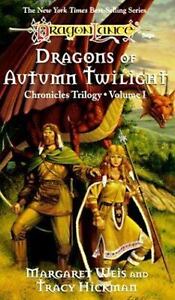 As pretty much everyone knows by this point, I love the Dragonlance Chronicles. I reread them about once a year, but this year is going to be epic because I'll be taking part in a Dragons of Autumn Twilight November read-along! It's being hosted by Jason at Offthetbr, which is an awesome blog. If you want to join in, check out his post here to learn how to sign up, etc. I hope you'll join the fun!
          Lifelong friends, they went their separate ways. Now they are together again, though   each holds secrets from the others in his heart. They speak of a world shadowed with rumors of war. They speak of tales of strange monsters, creatures of myth, creatures of legend. They do not speak of their secrets. Not then. Not until a chance encounter with a beautiful, sorrowful woman, who bears a magical crystal staff, draws the companions deeper into the shadows, forever changing their lives and shaping the fate of the world.
No one expected them to be heroes.
Least of all, them. (taken from Amazon)