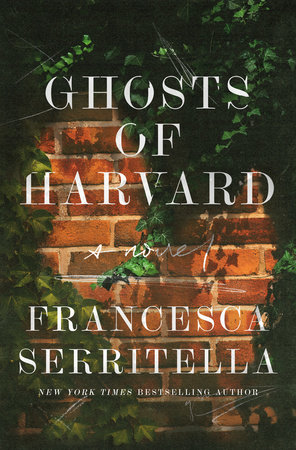 Cadence Archer arrives on Harvard's campus desperate to understand why her brother, Eric, a genius who developed paranoid schizophrenia took his own life there the year before. Losing Eric has left a black hole in Cady's life, and while her decision to follow in her brother's footsteps threatens to break her family apart, she is haunted by questions of what she might have missed. And there's only one place to find answers.
 
As Cady struggles under the enormous pressure at Harvard, she investigates her brother's final year, armed only with a blue notebook of Eric's cryptic scribblings. She knew he had been struggling with paranoia, delusions, and illusory enemies—but what tipped him over the edge? With her suspicions mounting, Cady herself begins to hear voices, seemingly belonging to three ghosts who walked the university's hallowed halls—or huddled in its slave quarters. Among them is a person whose name has been buried for centuries, and another whose name mankind will never forget.
 
Does she share Eric's illness, or is she tapping into something else? Cady doesn't know how or why these ghosts are contacting her, but as she is drawn deeper into their worlds, she believes they're moving her closer to the truth about Eric, even as keeping them secret isolates her further. Will listening to these voices lead her to the one voice she craves—her brother's—or will she follow them down a path to her own destruction? (taken from Amazon)
                          Thank you to Netgalley for providing me with this in exchange for my honest opinion. This book will be available on May fifth.
Hmm…where to begin with this book? I rarely give trigger warnings, instead describing books as harsh if they discuss heavier subjects, but in this case I think I need to add a trigger warning. Suicide is an ongoing theme throughout this book. It's mentioned in the blurb, so it's not hidden or anything, but if that's something you don't want to read about, you might want to skip this review.
I actually almost gave up on this book multiple times. Parts of it hit too close to home and brought up feelings from my own mental illness diagnosis (bipolar 1, diagnosed during high school. Fun times). I prefer not to think about that time in my life, so this book was difficult for me.
So, why did I finish it? Because Francesca Serritella is an extremely talented author. If she wasn't, I would have had no problem reading this book. Instead, she made the characters easy to connect to. I felt for Eric as his illness was spoken about. I was heartbroken on his behalf when people felt "embarrassed" by him. I can't say I understand fully how schizophrenia works, other than that it has some symptoms that overlap with bipolar, but I can absolutely relate to the feelings of loneliness a mental illness diagnosis can carry with it.
This book is about Cady (Eric's sister) and her decision to follow in her deceased brother's footsteps to discover what led to his death by suicide. She learns that things are much more complicated than she originally thought. He was a paranoid schizophrenic (as well as a brilliant young man with tons of potential: a diagnosis is not an identity), and as he came close to the end of his life, he began to think he was being followed and was in danger. As Cady learns more of who her brother was, she begins to wonder: was he right?
At the same time, Cady begins hearing voices that no one else hears. She starts to question whether she might have the same mental illness as her brother. Needless to say, this scares her. What made me sad about this is that she was so afraid to mention her concerns to anyone. Again, the stigma against mental illness rears its ugly head.
This book was very well-written, but I would never be able to reread it. And, honestly, I felt that the ending diminished the rest of the book a bit. It felt out of place and took me me out of the story. However, the author wrote a compelling story, even though it was most definitely a harsher one.
If you struggle with suicidal ideation, I strongly suggest you skip this book. It is a good one, but ultimately it wasn't for me.