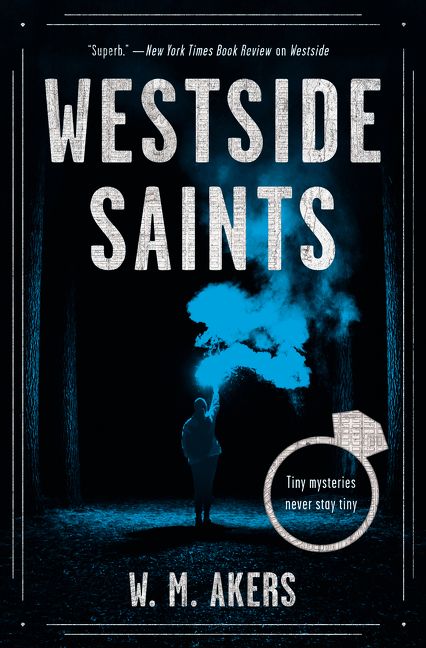 Return to a twisted version of Jazz Age New York in this follow up to the critically acclaimed fantasy Westside, as relentless sleuth Gilda Carr's pursuit of tiny mysteries drags her into a case that will rewrite everything she knows about her past.
Six months ago, the ruined Westside of Manhattan erupted into civil war, and private detective Gilda Carr nearly died to save her city. In 1922, winter has hit hard, and the desolate Lower West is frozen solid. Like the other lost souls who wander these overgrown streets, Gilda is weary, cold, and desperate for hope. She finds a mystery instead.
Hired by a family of eccentric street preachers to recover a lost saint's finger, Gilda is tempted by their promise of "electric resurrection," when the Westside's countless dead will return to life. To a detective this cynical, faith is a weakness, and she is fighting the urge to believe in miracles when her long dead mother, Mary Fall, walks through the parlor door.
Stricken with amnesia, Mary remembers nothing of her daughter or her death, but that doesn't stop her from being as infuriatingly pushy as Gilda herself. As her mother threatens to drive her insane, Gilda keeps their relationship a secret so that they can work together to investigate what brought Mary back to life. The search will force Gilda to reckon with the nature of death, family, and the uncomfortable fact that her mother was not just a saint, but a human being. (taken from Amazon)
Thank you to Netgalley for providing me with this book in exchange for my honest opinion. This book is available now.
I read this book without having read the first one in the series. I was able to follow the story-line without any problems, but I'm sure I would have appreciated it more if I'd read the first book.
I put off writing this review for way too long because I wasn't sure how to put all my thoughts into words. I'm still having that issue, but I think this review is just going to be a weird one. That works, because the book is best described as "weird." I like a little weird, so that is in no way an insult.
This book was a bit of a downer for me, to be honest. I found myself picturing the entire thing in varying shades of gray (even the things that were specifically described by color). I went into the book expecting light and funny, which wasn't quite what I got. Gilda, the detective, was an intriguing character. I think I missed some character development in the first book, because she didn't seem to grow all that much in this one. Her cynicism definitely got on my nerves from time to time.
There was some quippy dialogue which I appreciated. I love a good quip. Or a bad quip. Pretty much any quip. It wasn't quite enough to pull me out of the oppressive atmosphere of the book, but it did garner an appreciative nod from me.
There were some bits that felt a little choppy to me. It's a very strong possibility that it was intentionally written that way, and I just didn't get it. Sometimes an author and the reader just don't jive. It's abundantly clear that this author is very talented, I just couldn't connect.
I think I can chalk this book up to "wrong book for right now, right book for another time." I'll probably reread this at some point in the future, when a little bit of a hopeless vibe isn't going to mess with my happy.
Would I recommend this book? I honestly don't know.