Lately, I've been trying to read more outside my comfort zone. I have tried to not judge a book prematurely based on its cover (I struggle with that one, to be honest). I find this kind of funny, because children judge books first and foremost by their covers.
Before readers can read on their own, a cover is what draws them in. As an adult, the books I remember most from my childhood have amazing illustrations. I was particularly interested in fairy tales and Arthurian stories (are you surprised? I know, who would have thought?), and the amazing illustrations found in some of those books have stuck with me.
I have my own children now, and they love books too. I've used that as an excuse to buy myself some of my favorites from my childhood, and my husband likes to surprise me with them as well.
Here are a few of my favorite fairy tales, based on language of course, but also on the incredible pictures lurking on the pages. Pick these up for any child who likes the fantastical.
East of the Sun, West of the Moon by Mercer Mayer
Mercer Mayer is pretty popular for his Little Critter books. However, his fairy tales are absolutely stunning. The writing flows well and the illustrations are magical.
Saint George and the Dragon by Margaret Hodges, illustrated by Trina Schart Hyman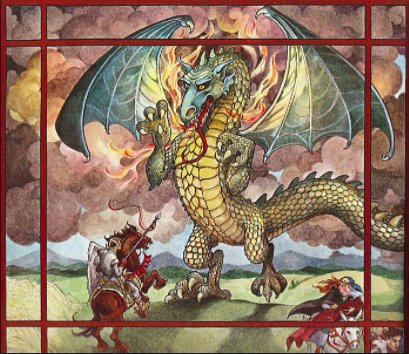 I'm not sure if this was the original dragon book that started my (ongoing) love of dragons, but if it wasn't the first, it was close. Trina Schart Hyman rightfully deserves the Caldecott Award she received for her pictures in this one. Parents, plan on reading this one aloud to youngsters at first: it's on the wordy side.
The Reluctant Dragon by Kenneth Grahame, illustrated by Michael Hague
Michael Hague is one of my favorite illustrators. His Alphabears is so charming and sweet. He lent his talents to this book and it works wonderfully. I love the whimsical touch he added.
The Twelve Dancing Princesses by Marianna Mayer, illustrated by Kinuko Y. Craft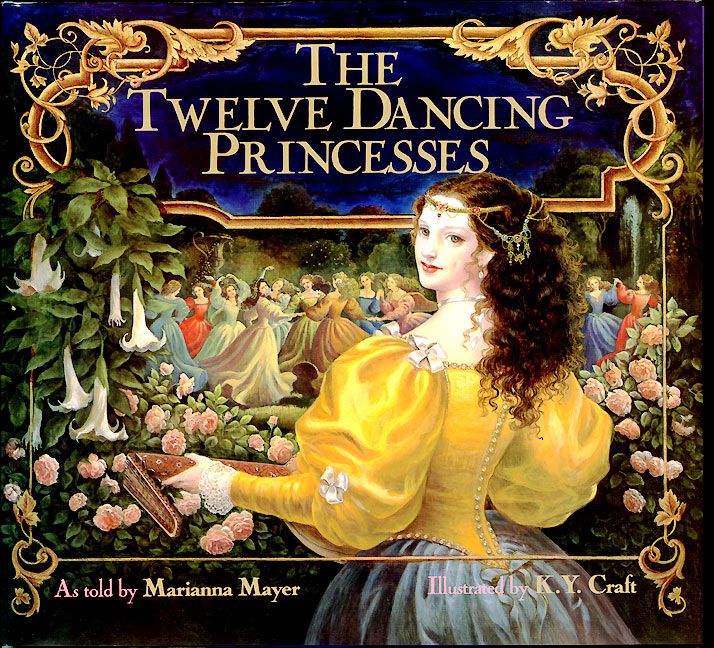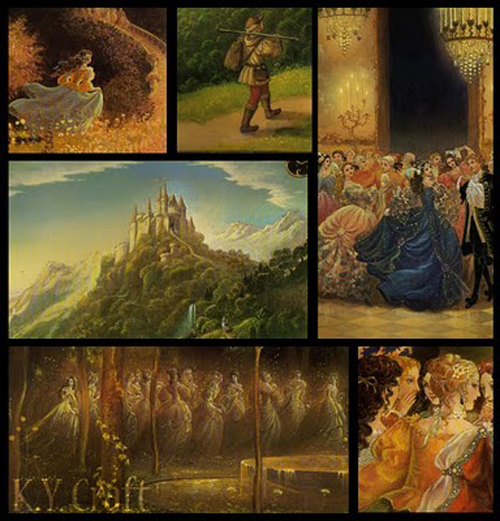 Isn't that art gorgeous? I have yet to add this one to my collection, but I loved it as a child. My favorite part was actually the images of the travel through the forest back and forth from the palace. It's so beautiful.
Merlin and the Dragons by Jane Yolen, illustrated by Li Ming
There's no way I could have a post about fairy tales and Arthurian stories without including one written by Jane Yolen. The illustrations by Li Ming bring this book to a new level. I'd happily frame the picture of the dragons and hang it on my wall.
Beauty and the Beast by Marianna Mayer, illustrated by Mercer Mayer
Are you noticing a trend? I am. Let's just go ahead and say that any fairy tale illustrated by Mercer Mayer is going to be beautiful. I also highly suggest Everyone Knows What a Dragon Looks Like and Sleeping Beauty.
Rumpelstiltskin by Paul O. Zlinsky
Okay, I know Rumpelstiltskin is supposed to be the villain, but I contend that everyone in this story is a little shady. Either way, I love the pictures in this version. This is another Caldecott Award winner, and with good reason.
The Kitchen Knight by Margaret Hodges, illustrated by Trina Schart Hyman
Last, but most certainly not least, I have another Arthurian tale illustrated by the incomparable Trina Schart Hyman. If only I had an iota of the talent she possesses. Sigh. Absolutely amazing.
What do you think? Are any of these household favorites? What amazingly illustrated fairy tales do I need to check out?